You can sync to other electronic devices (including an iPad) and access your EndNote Library anywhere. EndNote 20 can be set up to automatically synchronize your EndNote Desktop and EndNote Web Library. You can also sync across two or more computers.
All references, attachments and groups (but not Group Sets, Smart Groups or Combination Groups) can be accessed using EndNote Online.
Note: Cloud storage such as Dropbox or Google Drive should not be used for the location of your main library. Use the cloud only to store compressed libraries as back-ups.
To enable syncing for the first time:
Only one Library can be used, so you need to make it your main Library. Before syncing, you create a copy (or backup) of your library by saving a compressed Library. Choose File>Compress Library (.enlx)
Then click
, followed by
and register for EndNote Web or enter details for an existing EndNote Web account at: -https://www.myendnoteweb.com/EndNoteWeb.html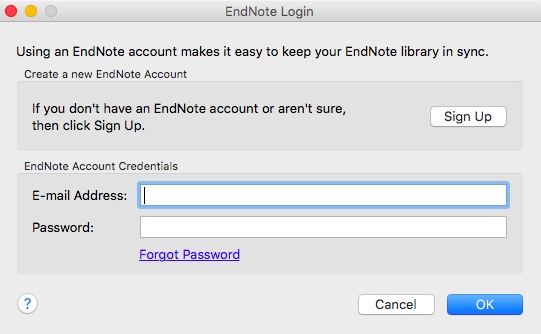 Note: If you already have references in EndNote Online you should delete them before syncing, otherwise they will duplicate in your Desktop Library.
After you have synced for the first time, any changes you make to any references either on the Desktop or Web version will be made everywhere.
To sync to another computer:
Open a new empty Library on the 2nd computer, and give it a slightly different name to distinguish it from any copies of the existing (main) Library you may have worked on at that computer. Then Sync and enter your online account details.
Note: Do not use an existing Library on the 2nd computer. You need to use an empty Library that will be filled by the references from your Online library.
To reset a sync:
If you wish the break a the connection between a Desktop and Online library:
1. Go to EndNote 20>Preferences>Sync. Uncheck "Sync Automatically". Restart EndNote Desktop.
2. Empty trash on both your Desktop and Web Library
3 Log into your EndNote Web account. Delete all references and all groups from EndNote Web, with the exception of any Shared Groups that you may have.
4.Go to EndNote 20>Preferences>Sync in EndNote Desktop.
5. Add this to the end of your E-Mail Address in the Sync preferences: #!resetLocalSync.
For example, if your email address is joe.bloggs@angliss.edu.au, change this to "joe.bloggs@angliss.edu.au#!resetLocalSync"
Note: This is case sensitive -- #!resetLocalSync NOT #!resetlocalsync.
6. Click Apply, followed by OK and exit the Preferences Window.
7. Go to the Library menu and click on Sync.
8. EndNote will then appear to authenticate and return the prompt: "A Sync library can be linked to only one account. Do not proceed unless you intend to break the link to the original account.".
9. Click OK and EndNote will purge any knowledge of a previous sync.
10. Restart EndNote. Go to the Library menu and click on Sync. Enter new sync details if required.