You can use EndNote with Microsoft Word (including Office 365), enabling you to 'Cite While You Write'.
First you need to open a blank document and check for the EndNote tab in Word. If it not showing, select Tools>Templates and Add-ins. Then select EndNote CWYW Word 16 options. Select 'OK'. The tab should now appear. If not, close and then reopen Word). Also, check that APA 7th is the style selected. If not, select it.


Note: Based on Word 2016 (Mac).
Insert a citation
Open your EndNote Library that contains the references you want to cite.

Open a document in Word (it is important to do it in this order the first time you use Word with EndNote).

Position your cursor in the paper where you want to insert the citation.

From the EndNote 20 tab in Word, select Citations>Insert citation(s).
5. Enter identifying text in the Search box to locate the appropriate reference.
6. Press Enter. Select the appropriate reference from the results and click on Insert. ​
Multiple citations can also be inserted by repeating the Find method.
Alternatively, select references directly from your EndNote Library by holding down the command key. Then select the
icon in the quick access toolbar, or select a reference from your Library and choose 'Insert' from within the reference preview panel.
Editing citations
Once you have inserted a citation into Word it should not be edited directly within Word. If you make any changes within the brackets of a citation it will disappear when the reference list re-formats. You must use 'Edit & Manage Citation(s)'.
Click on the citation you wish to change (the citation will now be shaded).

Select the Edit & Manage Citation(s) command from the toolbar or right-click the mouse within the citation. You will now see a dialog box allowing you to format the citation.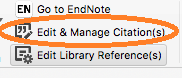 Adding a page number(s)
Within the Edit & Manage Citations dialog box, you can enter a page number in the box labelled Pages.
e.g. 26 (no punctuation is necessary).
Adding Additional text.
If you need to add additional text within your citation, you can do this using the Prefix (before) or Suffix (after) fields.
e.g when referring to a paragraph or section number or name within a website, use the Suffix field,
i.e. , para. 3 (para. is the abbreviation used in APA 7th for paragraph).
Note: Any punctuation needed (e.g.commas, full stops) must also be included.
You can also format how a reference should be displayed within your assignment/Word document:
Your in-text references/citations can be included within the body of your written work by:
either adding the citation at the end of the sentence,
OR
using the author(s) name as part of our sentence.
For example:
Having reliable information for data measurement in tourism is possible… (Weaver, 2006).
Weaver (2006) believes having reliable information for data measurement in tourism is possible…
If you include the author's surname in your sentence, you can remove the author from a citation.
The Default Format will display the citation as Author (Year).
Removing citations
It is recommend to use Edit & Manage Citations, to remove (delete) a selected citation from your document, available in the 'Edit Reference' options.
Tip: You can create a list of references from your EndNote Library without using the 'Cite While You Write' feature(See the Further tips using EndNote and Word tab).