Journals @ Angliss

William Angliss Institute journals and magazines
Information about WAI subscription journals and magazines.
Online access - how to access online articles and journals
On campus - Click on the link
Off campus - Click on the link and access with your Student Number/Staff Number and your Password
Included are -
1. Alphabetical Title Listing (below) - click on a title to go to the appropriate Subject tab
2. Archive Journal Listing (below) - journals held in our Archive collection - academic, continuing and discontinued journals - please see LRC staff for access.
3. Academic Tab (above) - provides access online to our academic peer-reviewed not for loan journals with full-text articles and/or abstracts, contents and bibliographies.
4. Subject tabs (above) - detailed information about each title. Browse tabs for appropriate titles. Information includes Dewey Number, holdings, e-journals, and content topics.
5. Links - in the Subject tabs above, there are links to online journals, articles and websites.
Monthly updates in the Monthly News section can be found below the cover photos.
The news is updated every one to two months. The section provides up-to-date information about our journals and magazines.
All the important current issues relating to our magazines. Latest arrivals, changes, publication details, formats and events are highlighted.
MAY / JUNE NEWS
Information for students and staff about the journals and magazines in the William Angliss Institute Learning Resource Centre.
Included here are updates to new journals, changes to publications and information on online access to various resources.
New Editions have just arrived -
International Journal of Hospitality Management Volume 70 -Click here to view contents for all volumes Unfortunately not available online. Only Print
Tourism Culture & Communication - Volume 18 No. 1 - first edition for 2018 - Special Issue on Gender and Tourism
Tapas - Issue 15, March 2018. Spanish magazine all about food, chefs, restaurants, even dresscode.
The Gourmand: the food and culture journal - No. 10 - Editor's note states: -
"Like all its predecessors, this new issue of The Gourmand aims to entertain and to enlighten." A wide range of topics are written about, including the ritual of taking tea, foods role and connection to profound events in our lives, aspects of food in different cities in the US and Australia's Skye Gyngell "reflects back on a life in kitchens and asks: What next?"
France Magazine - Issue 236, May 2018 - Everything about France and French culture. Articles include the Dordogne region, Corsica, the book loving town of La Charite-Sur-Loire, studying at the Sorbonne, train travel and Vichy thermal springs and the home of the government during wartime. The magazine looks at the French language, culture, politics hotels, food in 'Bon Appetit', the best of French gastonomy, restaurants and of course French wine.
Delicious Magazine - Issue 181, May 2018 - Baking Special. Recipe for Colin Fassnidge's version of one-tray roast beef. Recipes for pies, cakes and breadmaking. Updating old classics with a modern twist. The travel section in 'Escape' visits Las Vegas reporting on places to eat and giving recipes for some delicious American food. Also included is Christine Manfield's trip to Africa visiting Kenya and what's on offer for a safaris and Lindy Alexander visits the Riverina in southwest NSW to meet people involved in food and produce in the region.
Display area at the front of the LRC
The display changes on a regular basis about every 3 or 4 months. We focus on a particular subject area or issue.
The focus at the moment is Health, Happiness and Wellbeing as this is very important for a balanced lifestyle, particularly when you are studying.
The Institute is addressing the area of Wellbeing and Counselling with qualified staff that can assist in these areas.
New Journals in 2017
During 2017 health and wellbeing have become the focus with awareness being raised of the need to be well to be able to function productively for study, work and at home. The Institute has Wellness and Counselling Support available for students. There are a number of magazines relating to health and fitness already in our collection and we have added 2 new ones -
Wellbeing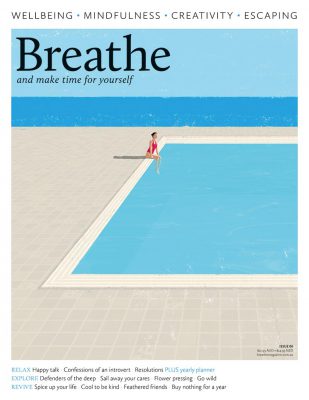 Breathe Check out the magazines via the links.
Other Media Sources
There is a new tab that gives you information on Blogs, Websites, Podcasts, Apps and e-journals that relate to our areas of study.
Check them out at Blogs, websites and podcasts